The Board of Governors' Citizen Scholar Award annually recognizes six full-time students who have made significant accomplishments while enrolled at one of the campuses at Missouri State University. The Citizen Scholar Award has been established out of the desire of the Board of Governors to recognize Missouri State students who are not only outstanding scholars but exemplify the Public Affairs mission of the University.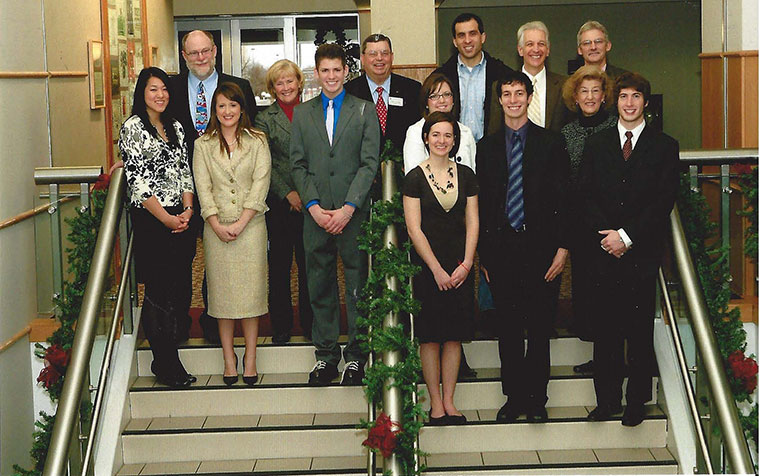 The 2009-2010 Citizen Scholars
Rona Babb
Rona is a senior from Green Forest, Arkansas, who is double-majoring in Global Studies and Religious Studies. She has been involved in a variety of ways on campus, including memberships in the Gamma Alpha Lambda Christian sorority, the Asian American Pacific Islander's Organization, and Amnesty International. During her college tenure, Rona has also studied abroad in South Korea, where she became involved with a humanitarian organization that assists North Korean refugees. Her strong faith led her to pursue another international experience last summer, when she was a missionary team leader for Thrive Africa Next Step. In her comments on her experience working with AIDS orphans in South Africa, Rona said "I learned that in my own life, every obstacle and blessing and gift I have received should be used for giving back. The truth is we have been given so much; much is also expected of us."
In the future, Rona plans to continue working abroad in South Korea, and eventually hopes to attend seminary school and earn a doctoral degree in Intercultural Studies. Rona was nominated by Dr. Joseph Hughes, Professor of Classics, who wrote that she is already "…a tremendous credit to Missouri State University and to the human race. As she proceeds through life, regardless of what career path she may choose, she will continue to do the University tremendous credit."
Hannah Eubanks
Hannah is a junior Anthropology major from Arkadelphia, Arkansas, who will be graduating next December. As a Presidential Scholar, she has worked with Gamma Pi Alpha, the student group for Presidential Scholar recipients, and served a term as that organization's leader. Hannah is also significantly involved in Students for a Sustainable Future, and participated in numerous campus events related to last year's Public Affairs theme in Sustainability. She attended a national conference on sustainability last year, which led her to pursue a study abroad experience this fall. Hannah applied for a very competitive program in Scotland known as Living Routes. During her experience abroad, Hannah has been living in a highly sustainable "ecovillage," where she has interacted with diverse individuals from throughout the world and learned more about Earth-friendly practices.
Hannah wishes to continue her commitment to Public Affairs in the future, as she works to promote sustainable living and the shift away from oil dependency. As a summer camp counselor for the past several years, Hannah also hopes to continue working with children in some way.
Andrew Keaster
Drew is a senior from Mountain Home, Arkansas, who is majoring in Cell and Molecular Biology in preparation for medical school. From the beginning of his time at Missouri State, Drew has excelled at the Public Affairs mission both on and off campus. He is a recipient of the Presidential Scholar award, and has been involved in the Student Government Association, World Affairs Council, Big Brothers/Big Sisters, the Residence Hall Association, and many other groups. Drew also helped to start a new organization on campus, Dance Bear-a-Thon, which has raised about $40,000 in the past two years to benefit the Children's Miracle Network. His Public Affairs involvement was further enhanced by study and travel in sub-Saharan Africa, and will continue with a planned trip to study in China next spring. Along the way, Drew has also found time for additional internships and applications to medical school.
Kristen Sanocki
Kristen is a senior from Holt's Summit, Missouri, who is majoring in Political Science. Currently, she serves as the Student Body Vice President, and has a wide range of involvements throughout her college career, including University Ambassadors and Gamma Phi Beta sorority. Kristen is a member of several academic honor societies and has received numerous scholarships, including the Missouri State SGA Leadership Scholarship. In 2006, she served as a volunteer for the presidential election campaign, and also gained experience through a legislative internship in the Missouri House of Representatives. After graduating, Kristen plans to pursue a career in law, with ambitions to promote the importance of education and perhaps run for public office some day. She wrote that "…I will continue to uphold our University mission in all aspects of campus life. Public Affairs is my passion and I am committed to promoting and exemplifying our mission in as many ways as possible."
Josh Snowden
Josh is a senior Political Science major from Lee's Summit, Missouri, who is planning to continue his studies in law school. Both his past accomplishments and his future ambitions are impressive. He has studied abroad in South Africa, and on campus Josh has served as a SOAR Leader, worked with the Residence Hall Association, and co-founded the Dance Bear-a-Thon organization that raised approximately $40,000 for the Children's Miracle Network. His resume also includes internships at both the Children's Miracle Network and the Greene County Prosecutor's Office, where he works with victims of domestic, property, and traffic crime. A Presidential Scholar, Josh plans to finish his undergraduate career with another study abroad experience in China, and then pursue a law degree with an emphasis in international law. Josh wrote in his nomination: "My past being prologue, I aspire to continue my love for the international realm and government, hoping to one day work with an international adoption agency."