Living the Public Affairs Mission
The six students selected for the 2014 Citizen Scholar Award were chosen based upon their dedication to the Public Affairs Mission of the university through coursework, activities, and service-learning opportunities.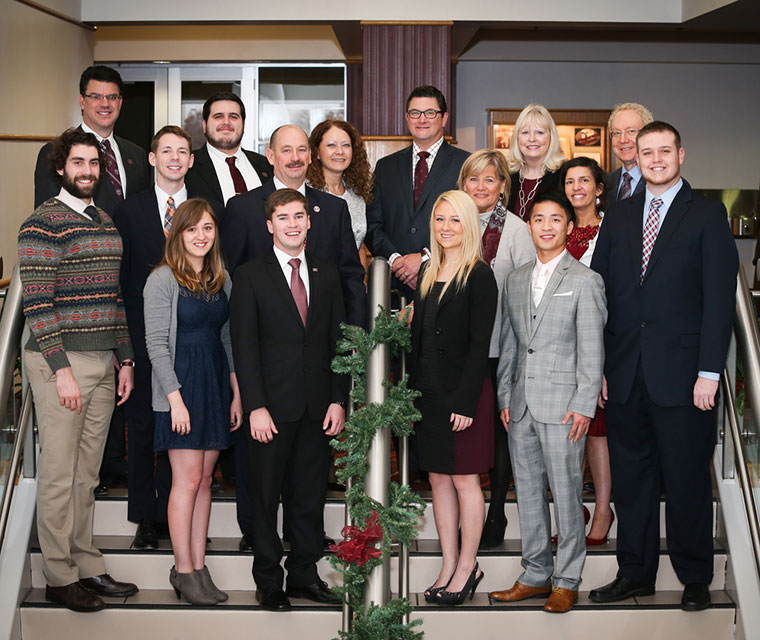 The 2014-2015 Citizen Scholars
Jared Bajkowski
A senior Entrepreneurship major from Lee's Summit, Missouri, Jared was nominated by Dr. Michele Granger, who said of his successes, "Jared's most significant achievement is his role as a leader amongst his colleagues. From Fraternity President to Inter-Fraternity Council President, Jared consistently models his values of 'Abilities, Teamwork, Empathy, and Integrity'''.
Jared Cates
Jared, a graduate student from West Plains, Missouri, will obtain his Master of Science degree in Student Affairs in Higher Education in May 2015. Nominator Dr. Dennis Lancaster said of Jared, "He is a great communicator, a visionary, and a superb analytical thinker. He's humble and open-minded; a philosopher king at heart who, I believe, is leading his generation into greater potential and influence".
Brittany Donnellan
Brittany, a senior from Springfield, Missouri, is majoring in International Business and hopes to eventually serve as an attorney in public service. Nominator Ken McClure said of Brittany, "The skill sets which Brittany posses exemplify the best of a Citizen Scholar. She is a superb communicator, an excellent public speaker, and a clear and persuasive writer".
Jordan McGee
A senior Economics and Organizational Communication major from Ellisville, Missouri, Jordan was nominated by Dr. Mahua Barai Mitra, who said of his character, "It is not often that I come across a student who best fits the description of a true Citizen Scholar. In my opinion, Jordan's most significant accomplishment lies in using his platform as Student Body President to improve campus life that will have a lasting impact on MSU students".
Samantha Nichols
Samantha, a senior from Stillwell, Kansas, is majoring in Religious Studies and plans on attending seminary and becoming ordained. Nominator Dr. Stephen Berkwitz said of Samantha, "I believe her contributions to the Department of Religious Studies and Missouri State University as a whole will still be felt long after she graduates".
Konnor Temple
A senior International Business Management major from Springfield, Missouri, Konnor was nominated by Don Simpson, who said of his achievements, "I believe strongly that Konnor is an example of a student who has sought the appropriate balance between dedication to performance and dedication to service to others".