Living the Public Affairs Mission
The six students selected for the 2017-2018 Citizen Scholar Award were chosen based upon their dedication to the Public Affairs Mission of the university through coursework, activities, and service-learning opportunities.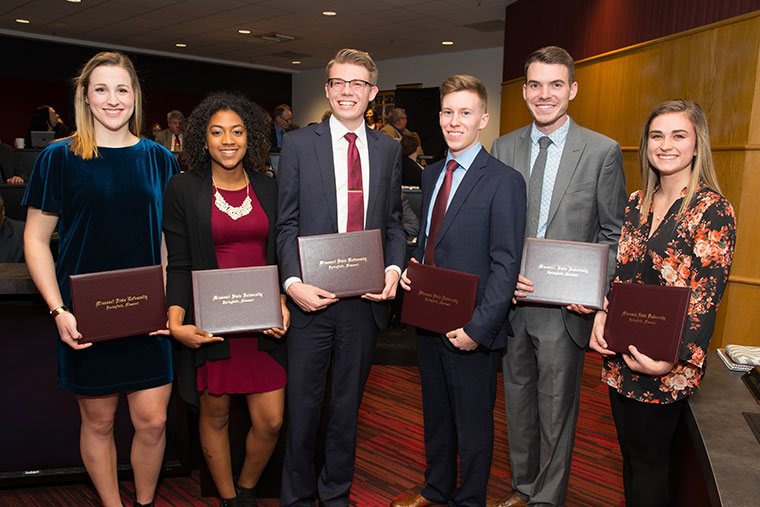 The 2017-2018 Citizen Scholars
Connor Aller
Connor is a senior from Holt, Missouri. He is majoring in Accounting with minors in both Mandarin and Economics. Following graduation in May 2018, he will serve as a graduate assistant at Missouri State's Dalian China campus for the summer semester. Then, after his China adventure, he plans to move to New York City to pursue a career in finance with an emphasis on international markets. In explaining why she nominated Connor, Tara Benson, Associate Director of the Plaster Student Union/Director of Student Engagement wrote, "Connor has embraced what it means to be an ethical leader by serving in leadership capacities outside the classroom, being culturally competent by immersing himself into new cultures, and being engaged in the community through his work with the Ability Experience and the Southwest Center for Independent Living.
DeAntra "Shae" Darough
Shae is a graduate student from Cahokia, Illinois. She received a Bachelor of Science in Health Services from Missouri State University before being accepted into the Master of Health Administration Program. Shae plans to continue her position as the Leadership Development Graduate Assistant while pursuing a master's degree in Healthcare Administration. Her nominator Dr. Thomas Lane, Dean of Students, expressed, "I have observed Shae successfully take on a number of important student leadership roles, serve as an excellent student employee, deeply strengthen her commitment to cultural competency by serving as a highly visible leader in our National Pan-Hellenic Council (NPHC) community, and maintain a consistently strong academic record."
Lily Johnson
Lily is a senior from Wildwood, Missouri. She is majoring in Cell and Molecular Biology with a minor in Chemistry. Post-graduation, she hopes to build her resume so that she can be accepted into Missouri State's Physician Assistant Program. Lily's nominator Daniel Raines, the Director of Academic and Student Services-Athletics, wrote, "I have been Lily's academic counselor since she arrived at MSU in the fall of 2014, and she is one of the best students, leaders, and citizens that I have ever worked with. It is impressive that Lily has been the MVC Player of the Year in volleyball twice and has been named to All-American teams all three years she has been on campus. What is more impressive is that her volleyball accolades are such a small piece of what she has brought to the table for Missouri State University."
Kendell Loyd
Kendell is a graduate student from Redford, Missouri. He graduated with a Bachelor of Science in Wildlife Biology with an Honors Distinction in Biology. He is now working toward a Master of Biology. Following graduation, Kendell plans to teach high school science. Alicia Mathis, Professor of Biology and Department Head nominated Kendell because, "Kendell exemplifies the qualities expected in a Citizen Scholar, including an extremely high level of scholarship as well as many substantive and time-consuming leadership and service activities. As department head, I know that he is dependable, his work is always of the highest quality, he treats others respectfully, and he is ethical in his behavior."
Brandon McCoy
Brandon is a senior from Spokane, Missouri. He is majoring in Economics with Minors in Finance and General Business. The next step in his career is to work in the Midwest at an asset management or consulting firm. He will eventually return to school for a master's degree. On the side, he will continue working with nonprofits and stay an active member in the community. His nominator Matthew Morris, Vice President for Administrative Services, expressed, "He takes advantage of challenges presented and demonstrates innovation and leadership. Brandon's accomplishments within SGA exemplify the University's Public Affairs mission. Coupled with his academic record, Brandon's commitment to the students and community of Missouri State University and the Springfield area exemplifies the idea of a "citizen scholar."
Micaela Wiehe
Micaela is a senior from West Plains, Missouri. She has received an Associates of Arts in General Studies and is now working toward a B.A. in Global Studies and a B.S. in Spanish with a minor in Latin American Studies. She also plans to apply for the MBA graduate program at Missouri State University specializing in International Business. She hopes to use her education to strengthen ethical international business practices and work closely with international populations in the US to promote their success. In explaining his nomination of her, Alex Pinnon, Darr Honors Program Director, stated, "During her time here at Missouri State University-West Plains, Micaela was the ideal example for student engagement. She invested her time in student organizations, faculty/student committees, volunteering, presenting at conferences, and studying abroad."