Living the Public Affairs Mission
The six students selected for the 2020-2021 Citizen Scholar Award were chosen based upon their dedication to the Public Affairs Mission of the university through coursework, activities, and service-learning opportunities.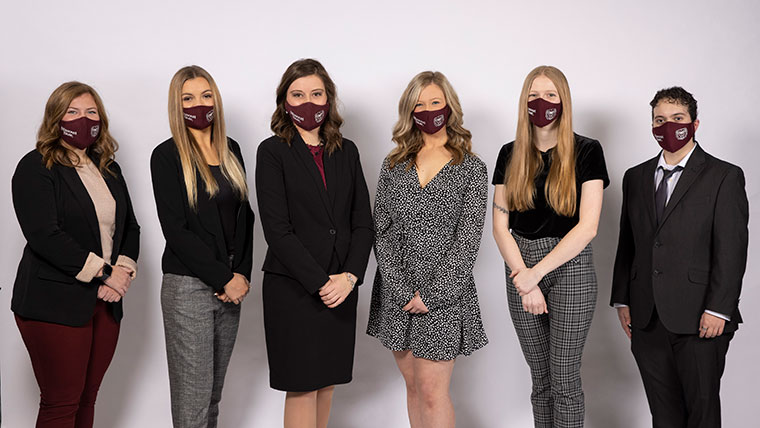 The 2020-21 Citizen Scholars
Jamie Cayley, graduate, Guatemala, Guatemala
Cayley is working on a Master of Science in Mathematics and graduate certificates in forensic child psychology, statistics and research design, and student mental health, family and community support. He plans to become a licensed professional counselor to help transgender youth and people who have experienced clinical trauma.
Alye Darter, graduate, Rogers, Arkansas
Darter is working on a Master of Science in Communication Sciences and Disorders/Speech-Language Pathology. She plans to work as a speech-language pathologist for geriatric people in a hospital setting.
Allison Garrett, senior, Nixa, Missouri
Garrett is majoring in political science. She is applying to law school and plans to form her career in the higher education setting, with the goal of becoming general counsel for a college or university.
Sarah Gray, graduate, Little Rock, Arkansas
Gray is working on a Master of Science in Early Childhood and Family Development. She plans to work in the nonprofit sector and develop local communities that value justice, equity and decolonization.
Rachael Ingram, senior, Kansas City, Missouri
Ingram is majoring in cell and molecular biology. She is applying to medical school and plans to become an emergency medicine physician or a trauma surgeon.
Lyndsey Parker, senior, Salem, Missouri
Parker is majoring in agriculture business finance and management. After completing her accelerated , she plans to start a career in agricultural lending and advocate for the industry in local communities. She earned an associate's degree from Missouri State-West Plains in 2019.