Living the Public Affairs Mission
The six students selected for the 2021-2022 Citizen Scholar Award were chosen based upon their dedication to the Public Affairs Mission of the university through coursework, activities, and service-learning opportunities.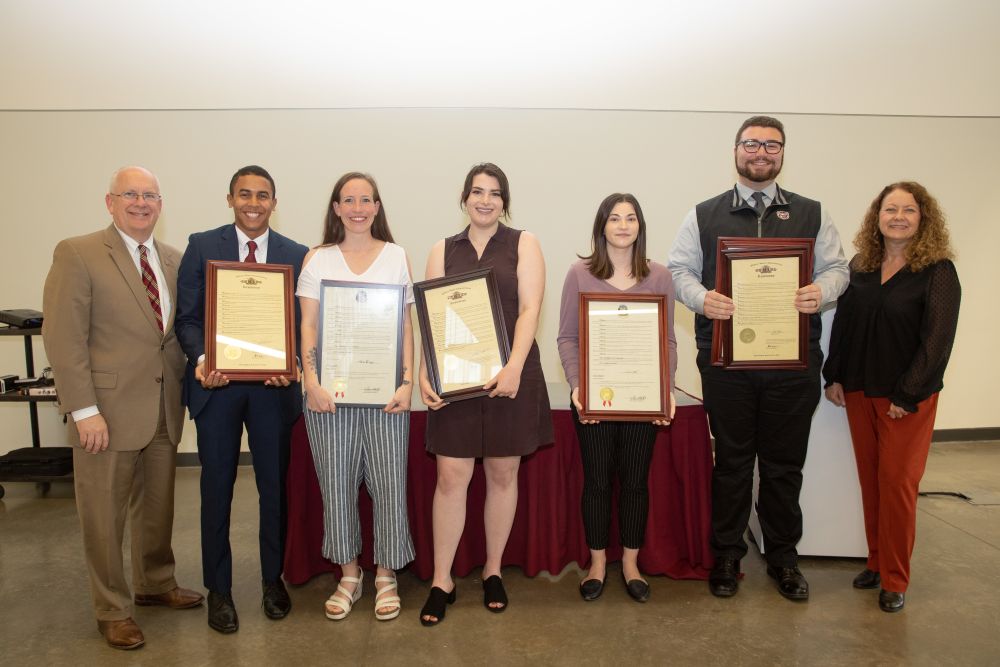 The 2021-22 Citizen Scholars
Diana Dudenhoeffer
Diana is a senior from Springfield, Missouri. She is majoring in Journalism here at Missouri State University. Following her graduation in May 2022, she hopes to work at a publication with forward-thinking sustainability endeavors that bring her passions for journalism and sustainability together. Her nominator, Scott Handley, Assistant Director of the Honors College here at Missouri State writes "Diana is using her technical expertise, her storytelling background, and her rich voice to present diversity in a way that is accessible, non-threatening, and celebratory. When I listened to the first episode in the series, I immediately thought this is exactly the kind of project that makes me proud to work with Missouri State Students." Diana's guests today are her mother and father Coletta and Todd Dudenhoeffer.
Manuel Jose Elivo-Jerez
Manuel is a graduate student born in the Dominican Republic. He moved to Missouri at an early age. He received his Bachelor of Science in International Business Administration Management and is currently working on his Master of Business Administration here at Missouri State. After graduation he will pursue a career in his field of study. While at Missouri State, he was involved in Chi Alpha Campus Ministries, Global Leaders and Mentors, volunteering with Eden Village, Special Olympics, and the Springfield Dream Center. In explaining why she nominated Manuel, Samantha Francka, Web and Marketing Specialist for International Programs, wrote, "Unofficially, Manny is the "juice" of the international programs. His enthusiasm and excitement to help others could not be more evident in the way he carries out his duties and finds ways to engage with international students." Manuel's guest today are his mother Ana Jerez-Elivo, his father, Eddy Elivo Lopez, his brother, Eddy Elivo Jerez Jr, and his brother Luis Elivo Jerez who is accepting the award on Manuel's behalf.
Emily Fessler
Emily is a graduate student from Sheboygan, Wisconsin. She received a Bachelor of Science in Anthropology and is currently working on a Master of Public Health here at Missouri State University. Post-graduation, Emily plans to work in the Springfield area and then move away for her Doctoral Program where she will either get a PhD in Medical Anthropology or a DrPH in Public Health. She is one of the founding members of Paws to the Polls, a nonpartisan student led campus initiative designed to increase voter literacy and voter participation among college students. Emily's nominator, Dr. Dalen Duitsman, Director of the Ozarks Public Health Institute and Professor for the MPH Program stated, "Emily is truly an exemplary student...She is in the top 1% of most capable and promising students that I have worked with in my 34+ years of university experience." Joining Emily today is her mother, Cindi Reichgeld and her husband, Adam Fessler.
Cole Howerton
Cole is a senior from Conway, Missouri. He is currently majoring in History. After graduating, Cole plans to continue his education at MSU in the Defense and Strategies Studies program, then he plans to use his education to serve our community. Cole has been involved in History Club, Honors College, SGA, SOAR, volunteered with the Ozarks Literacy Council, and more. Cole's nominator, Mary Ann Wood, Director of Public Affairs, stated "Cole has taken advantage of his time at Missouri State to fully immerse himself in the public affairs mission. With his strong academic record and community involvement, Cole exemplifies what a Missouri State University Citizen Scholar should be." With Cole today is mother, father, and sister, John, Marlana, and Audrey Howerton. As well as his fiancé, Maddie Arnold.
Weston Phipps
Weston is a graduate student from Houston, Missouri. He received his Bachelor of Science in Psychology and is currently working on his Master of Experimental Psychology. Weston plans to complete his PhD in Clinical Psychology and hopes to one day practice therapy while teaching Psychology at a University. In explaining why, he nominated Westin, Alex Pinnon, the Darr Honors Program Director at Missouri State University—West Plains stated "During his time here at MSU—West Plains, Weston was the ideal example for student engagement. He invested his time in student organizations, student committees, volunteering, presenting at conferences, and studying abroad. His spirit of service seems to be at the forefront of his academic and professional ambitions. He took every opportunity to serve others." Weston is accompanied today by his mother and father Wendy and David Phipps, and his significant other, Daphne Miles.
Morgan Spoor
Morgan is a senior from Gainesville, Missouri. She is currently in the Nursing Completion Program for Registered Nurses at Missouri State University-West Plains. Morgan's future plans are to further her education as a nurse, she hopes to get her masters through Missouri State and wants to eventually become a flight nurse. Morgan's nominator, Barbara Caton, Associate Professor at Missouri State University—West Plains said "Morgan's most significant achievement is being a single parent of 5 children, one with special needs, while dealing with the loss of her husband and completing her Associate of Science degree in nursing as an honor student while also consistently volunteering to help others. If you don't know Morgan Spoor, you should meet her. She is truly inspiring." Morgan is joined by her mother, Shelia Bostick, her mother-in-law and father-in-law, Nancy and Rodney Spoor, her significant other, Donald Laughary, and her daughter, Avery Spoor.