Living the Public Affairs Mission
The six students selected for the 2015-2016 Citizen Scholar Award were chosen based upon their dedication to the Public Affairs Mission of the university through coursework, activities, and service-learning opportunities.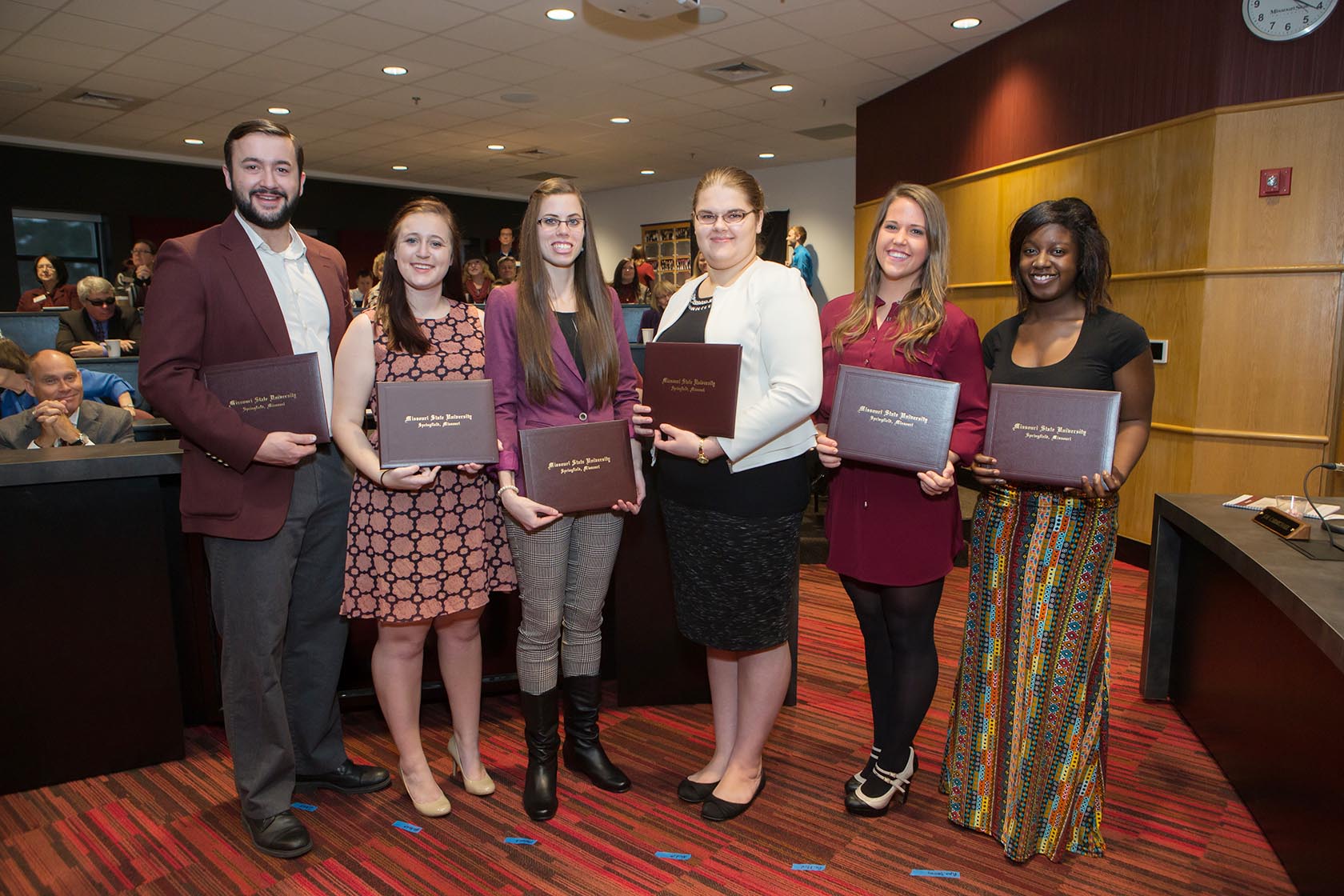 The 2015-2016 Citizen Scholars
Zane Clark
A senior Organizational Communication major from Cameron, Missouri, Zane was nominated by Dr. Kurt Heinlein, who said of his successes, "Zane is one of the most compassionate and socially concerned young individuals I've come to know. He is determined to use his tools to improve the world around him, and in a manner that makes a significant positive impact. He is very intelligent, talented, and passionate. Importantly, those assets exist alongside his exceptional skills as a collaborator and leader."
Brianna Duda
Brianna, a senior from St. Louis, Missouri, will obtain her Bachelor of Science degree in Socio-Political Communication in May 2016. Nominator Katheryne Staeger-Wilson said of Brianna, "Brianna has always impressed me in how easily she is able to identify the intersections of identities, historically excluded groups, and our public affairs mission. She uses her talents to help make MSU and our community a better place through her creative and innovative work. Brianna has always been able to maturely navigate these complex issues, addressing conflict and barriers surrounding these issues with grace."
Melanie Morgan
Melanie, a senior from Springfield, Missouri, is majoring in Dietetics with a personalized minor in International Business. She hopes to pursue a Dietetics internship next year to become a Registered Dietician. Nominator Dr. Carmen Boyd said of Melanie, "What sets Melanie apart from other students in our program is her strong desire to help others. There is no doubt that is why she has enjoyed so much success and will be a great dietician. Her work has never focused on herself, but was to help and serve. Helping others, helping our program- it all focuses around helping, not just doing. Her excellent academic record, outstanding service, and demonstrated leadership are exactly what I feel a 'citizen scholar' should possess."
Nadia Pshonyak
A senior Philosophy major from West Plains, Missouri, Nadia was nominated by Dr. Dennis Lancaster, who said of her character, "Nadia is focused, disciplined as no other student I've known, and conscientious. Her sense of humor combined with a compelling humility puts people at ease around her, allowing her to engage them in many different topics and on many different levels. She is articulate and expresses her ideas extremely well, as any philosopher should be able to do."
Caitlin Kemp-Shukwit
Caitlin, a senior from St. Louis, Missouri, is double-majoring in Public Relations and Dance Performance and hopes to travel internationally after graduation to explore other cultures and their forms of movement, in hopes to define and create a new, unique movement vocabulary for herself. Nominator Dr. Ruth Barnes said of Caitlin, "Caitlin is a born extrovert, with a bubbly personality and a compassionate, warm nature and interests in a wide range of subjects. She IS a citizen scholar: in her exemplary leadership skills, her appreciation for diversity and her engagement with the community- whether on campus, in the professional world, on a televised competition, or in the 'real' world. In addition, Caitlin is one of the most genuinely cheerful individuals I have ever met."
Piper-Danay Smith
A senior Nursing major from Grandview, Missouri, Piper was nominated by Kathryn Hope, who said of her character, "Piper is an outstanding student and individual. She is dedicated to helping others through her education as a nurse and through her leadership in community and university service. She will be a role model for all as she pursues a career in nursing; in particular, as a strong leader and role model for other minorities, which are desperately needed in the nursing profession."